21 Interior Design Marketing Best Practices
Today, interior design marketing offers more opportunities than ever before. Now, you have new ways to connect with clients and grow your business. One of the most common questions we hear is, "How can I get more clients for my interior design business?"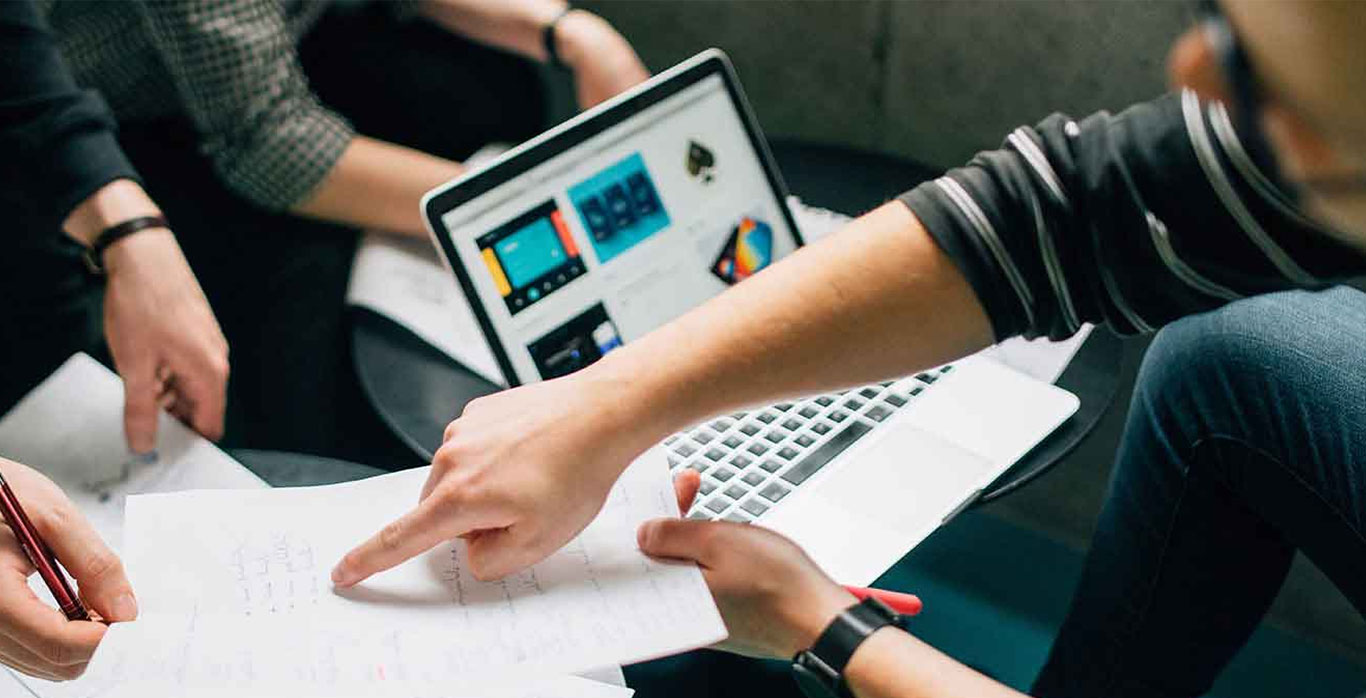 In this post, we present best practices for interior design marketing that will help you connect with more potential clients. Plus, they'll help to ensure you get a solid return from your marketing initiatives.
1. Develop a clear vision for your interior design business.
"They may have completely different approaches in how they become successful. But the one thing all successful entrepreneurs have in common is that they're very clear on where they're going to be."
–Barbara Corcoran, Founder of The Corcoran Group and Investor on Shark Tank
Barbara Corcoran, the self-made, multimillionaire real estate mogul who is also one of the investors on Shark Tank, has said this about the most successful entrepreneurs she's met: "They may have completely different approaches in how they become successful. But the one thing all successful entrepreneurs have in common is that they're very clear on where they're going to be."
If you don't have a clear vision about what you want to do with your interior design business, then it's time to sit down and think about it. This might involve creating a vision board along with a near-term and long-term financial plan. Without specific goals in mind and a vision for the future, it will be too easy to get distracted by (and possibly waste money on) things that are not going to get you to where you want to be.
Think about where you want your business to be in six months, one year, five years, and more. Imagine the clientele you'll have, the types of interiors you'll design, and whether your team will be big or small. Once you have a clear vision, it will make it easier to makes decisions about which interior design marketing strategies will be the most effective in helping to make your vision a reality.
2. Create an interior design marketing plan that fits your business goals.
Since marketing is a cost center for your business, it's essential to invest in marketing strategies that will deliver the maximum return on investment (ROI).
Consider all of the business activities you engage in in a given week, from networking, to meeting with clients, to actual design work, and more. There's a finite number of hours in each week. How much can you realistically devote to marketing, whether it's things you do yourself or time you spend working with an interior design marketing agency?
Next, consider how much budget you can realistically earmark for marketing. Even if you're not sure, you'll want to at least have an idea of what you can invest to test some things to see what will work for your business. Only you know how much you can expect to earn from each client and how much of your time it will take to do a great job for them.
Thinking about your marketing investment as a percentage of your time and your overall revenue will help you make more informed decisions about allocating your resources.
3. Fine tune your brand attributes.
Your brand serves as a multiplier for your business. When you can't be face to face with potential clients, your brand is something that's always working for you: in your previous work, on your website, in social media, and in the minds of your clients when they're referring you.
Your brand needs to be reflected everywhere you have a digital presence, and it should reflect your style, your level of work, and your personality. These elements are deciding factors for any potential client when they're considering whether they'd want to work with you and whether they contact you or move on to the next person.
Whether your business or brand is new or you've been established for a while, taking the time to write out what your brand means to you and what you want it to convey to your clients is a worthwhile practice. Great brands don't just happen. They're the result of thoughtful consideration!
This is another area where a vision board can help. Writing down keywords, selecting inspirational quotes, and collecting images about what you want your brand to convey can help you crystallize your most ideal brand attributes. Is your brand aspirational? Are you focused on fun and colorful? Or is your expertise more contemporary? When you're clear about your brand attributes, it makes it easier to develop interior design marketing campaigns that reflect its value.
4. Embody your brand.
"You are the brand."
–Daymond John, Founder and CEO of FUBU, Inc. and Investor on Shark Tank
To quote another self-made multimillionaire who's on Shark Tank, Daymond John, creator of the clothing brand Fubu, always reminds new entrepreneurs, "You are the brand."
What Daymond is saying is that you need to embody the values, reputation, and persona that you want to convey when it comes to the brand of your company. This is especially important if you work in an artistic industry like interior design, where immediate impressions matter.
Ideally, your potential clients will meet you through your work first: on your website, on social media, or by seeing your designs in their friend's homes. But inevitably, they're going to want to meet you and know who you are.
You are the most important product that is being offered by your company. And not only that, you're the package the product is being delivered in.
Here are just a few ways you can enhance the value of your personal brand with interior design marketing:
Certifications that show you're an expert in your field
Memberships to associations, local clubs, and nonprofits
Past and current clients
Your education and other credentials
Special skills, including photography and graphic design
Volunteer work
Aspects of your personal life that you want to share, including family and pets
So, whatever impression you're working hard to express with your design work, ask yourself, "Am I the best representative of my brand values that I can be?"
5. Promote a consistent brand image for your interior design business.
Wherever potential clients might learn about you and your business, you want to present a consistent brand experience. This includes your:
Website
Email digital signature
LinkedIn profile
Facebook page
Instagram profile
YouTube channel
Pinterest profile
Houzz profile and projects
Apartment Therapy projects
Twitter profile
Business cards
Ensuring that your brand image is consistent can make your interior design business appear to be ubiquitous, and therefore substantial and impressive.
6. See what the competition is doing.
Running your own interior design business can be all-consuming. But don't get stuck in a bubble of only paying attention to your own work and serving your clients. Discover who your competitors are, and consider how you can offer services that are better.
Competition may include other interior designers, but it may also include other service providers, such as window treatment companies, stagers, and even general contractors. We live in a very competitive world, and your business will be vulnerable if you ignore this fact.
7. Get a website that's the best virtual representation of your design business that anyone can imagine.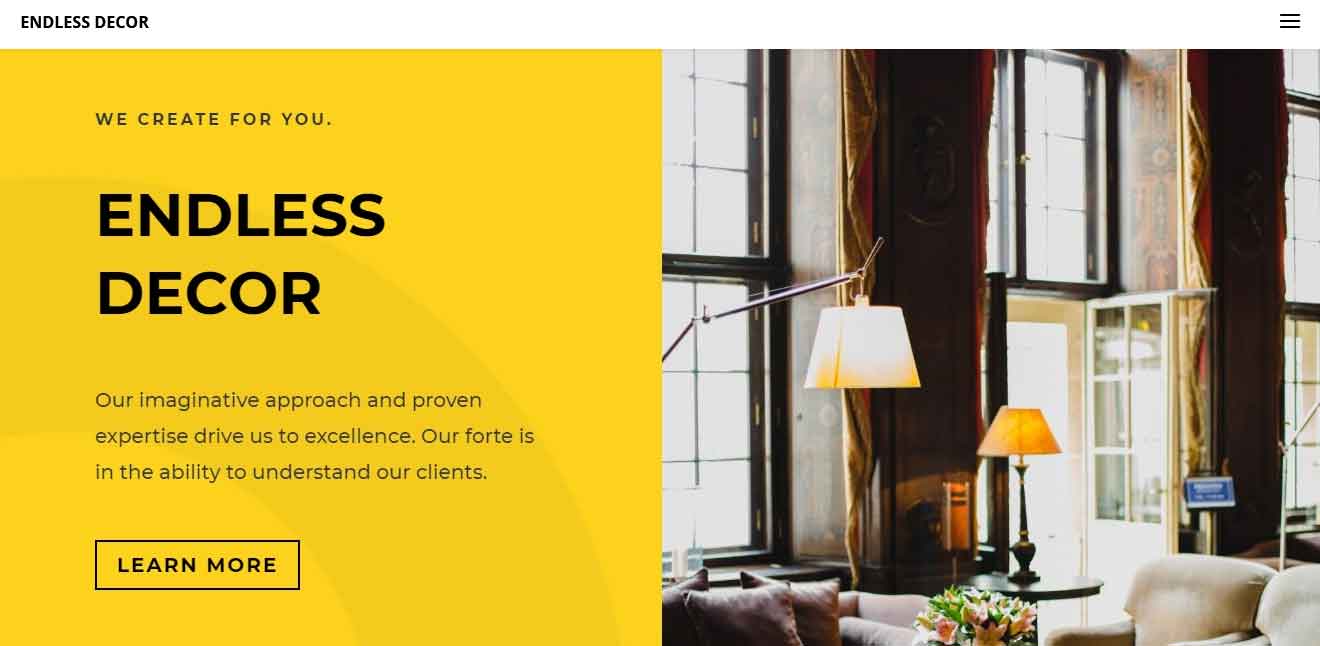 Today, having a website is essential, and this is especially true when it comes to creative services like interior design. Quite simply, your website needs to be a stunner – an online showroom that "Ahhs!" your audience at first glance.
Aesthetics are the currency in interior design: Your work is art, thus, your website needs to be a work of art. View your website as a showcase and not just a lead gen platform (though it needs to be that too.) If you focus on creating a high quality, luxurious experience for your visitors, they'll associate your business with those positive feelings. It will make it easier for them to imagine that you'll be able to deliver the same feeling for their own home, office, or other space.
Having a strong presence on social media is a must in today's business world. But your own website will give you the most control over presenting your portfolio of work in an optimal way. It's the next best thing to having a brick and mortar showroom – and perhaps even better because you can refresh it so easily.
You only have one chance to make a first impression, and your website may be the first place a potential client views your work. In addition, that first impression could be happening on a mobile phone, so your website needs to not only look great, it needs to do so no matter the size of the screen it's being viewed on.
What features do the best interior design websites have?
Whether you're looking to update an existing website or you're starting from scratch on a new one, there are some essential elements that a modern interior design website should have.
A high quality interior design website should:
Reflect your highest brand attributes.
When a visitor first comes to your website, they should have an immediate, "Ah!" impression vs. a "Oh boy, this website is going to make me work…" impression.
Be optimized for all screen sizes, from large monitors to mobile phones.
Showcase your portfolio of work, including your specialties as well as your versatility and breadth of expertise.
Include client testimonials.
Be optimized for search engines, especially local search.
Provide multiple, easy-to-find ways for people to contact you.
Have an about you page. (Remember, you are the brand!)
Have an up to date copyright in the footer.
Display links to your social media profiles and online reviews.
Load its pages fast.
Fit your budget.
What should you consider when hiring a website designer or agency?
While interior designers are creative people by nature, working with a professional designer and/or agency that specializes in websites and marketing for interior designers can deliver added advantages that will take your business to the next level. For instance, an agency that specializes in websites and marketing services especially for interior designers will have the benefit of having key performance indicators (KPIs), or marketing data, on what works especially well and what doesn't for your niche.
Website development is commonly broken into two distinct skill sets:
A graphic designer who will create the look, feel, and overall layout of your site.
A web developer who will manage the backend coding and other technical aspects of your site.
Having these skill sets under one roof, as is the case when you work with a website design and development agency, can ensure that your design delivers not only an appealing visual experience, but is also technically up to speed. You want a site that is fast, optimized for search engines and different screens sizes, and offers easy navigation and usability.
If your website isn't coded properly, it can impact its ability to be indexed by search engines, which in turn can negatively impact your site traffic. There are plenty of examples of stunningly beautiful websites that don't convert visitors into quality leads. At MS Tech, we focus on delivering the winning combination of a websites that not only looks amazing, but also meets our client's overall business objectives.

8. Develop a content strategy.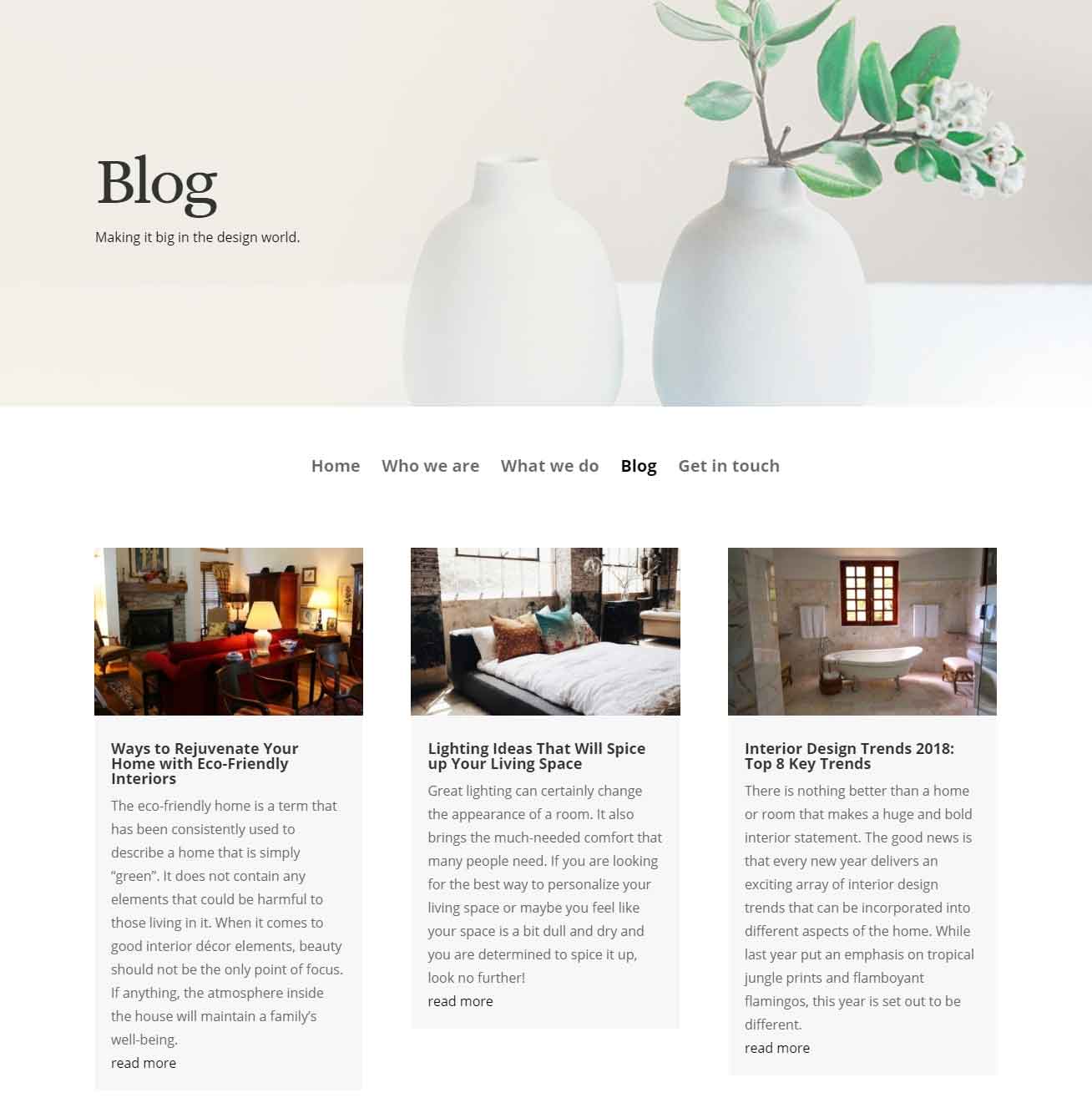 Today, people are consuming more content on a daily basis than ever before. So, almost every business, whether it's a food product or a doctor's office, must have a content strategy to stay top of mind with potential customers and clients.
The world of online content is competitive. You're competing for potential clients' time and attention, so visual content is especially important because it's the best way to grab people's attention. Images, videos, and animated motion graphics can capture your audience's attention. This will get them to pause, and then entice them to engage with your content and message.
In addition to being visually exciting, your content needs to be strategic. Like any other marketing program, it needs to have an end goal of helping you achieve your set objectives.
Elements of Content Marketing for Interior Designers
A well thought out content strategy might include search engine-optimized blog posts. Plus, it includes videos for your website or your YouTube channel, social media posts, email newsletters, and more.
High-quality content takes time and energy, and you may be thinking, "But wait, I've got an interior design business to run." Thankfully, there are services today that make content marketing easy and cost-effective. The key is to find a service that can look at your business holistically and come up with a content strategy that:
Helps you achieve your key objectives, such as client acquisition and retention.
Reflects your brand.
Demonstrates you as a subject matter expert in the field of interior design.
Delivers value to your audience.
Is cost effective to produce and publish.
At MS Tech, we first started developing content marketing solutions because so many of our clients wanted them. And we say first hand how the right content can support your brand and marketing objectives in multiple ways, from reputation, to lead gen, to client retention.
PR as a part of your content strategy
At MS Tech, we incorporate public relations, or PR, in the content strategies for our clients. Almost any positive update about your business can be worthy of sending a press release. Launching a new website or service is newsworthy, as is getting an award.
There are many online press release services available that are cost-effective. Sending a release is good for site traffic, plus getting mentioned by local news in your community.

9. Consider your marketing channel options, then test and measure.
Because there are more ways than ever before for you to connect with potential clients, the sheer number of choices can be overwhelming. Today, you have opportunities via local search – on sites like Yelp and Google Places, as well as Facebook, Instagram, email, and more. The average person today has five social media accounts, and they spend two hours or more browsing on these networks everyday.
You know you need to have a strong online presence, but how do you choose where to spend your resources?
This is where testing and analytics can be invaluable. Once you identify the marketing channels where your potential clients spend their time, you can try some outreach campaigns to connect with them. This is something that MS Tech helps our clients with everyday. Then, measuring response rates is critical. The leading social media platforms provide analytical tools that give insights into how well your content is received by your followers.
And a good website company can offer valuable analytical tools. The tools can show you the sources of your website traffic. Plus, they reveal your most popular content. They also tell you what actions your visitors are taking on your site.
Paying attention to your KPIs can help ensure you have a laser-focused digital marketing strategy. And this will net out to a healthier bottom line.
Beyond having a state-of-the-art website, the following are what we recommend and help our interior design clients with to maximize their client acquisition efforts.
10. Optimize your local marketing opportunities, including local search (local SEO).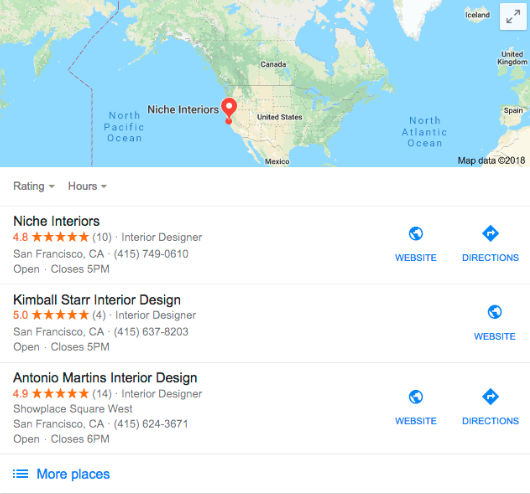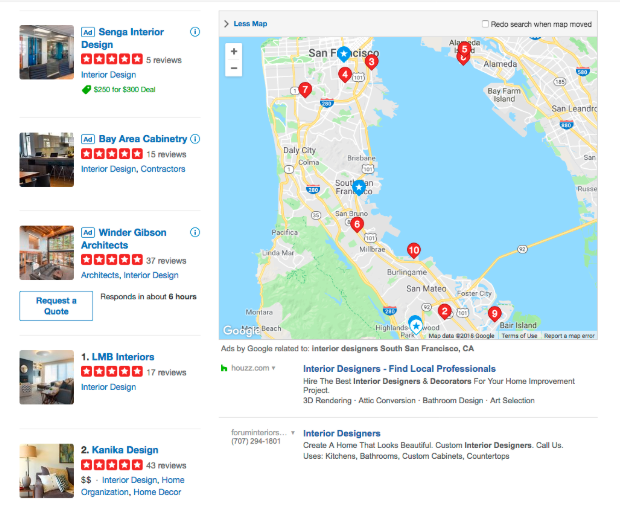 Since interior design is most often a geographically-based business, you want to maximize your brand presence in the geographical market you serve. This means having a strong local presence on flagship sites like Google, in their local search results, and Yelp.
Be sure to create a Yelp profile and register your business with both Google My Business and Bing Places for Business. A good website design company can help you do this as well. You'll want to have a consistent physical address listed on all of these sites, as well as your own website.
Some interior design marketing services, including MS Tech, can help to get your business listed with these localized business services. In addition, MS Tech ensures that your website has what's called "local structured data markup." This increases the odds that your business will get high rankings in search results for interior design services your area.
11. Build your online reputation.
Online reviews matter. Getting positive reviews from past and current clients on Yelp, Google, and elsewhere will go a long way in helping you get new clients. According to a survey by customer support software company Zendesk, 90% of people say positive reviews impact their purchasing decisions.
Yelp has rules about directly soliciting customers for reviews. But there are ways you can gently "nudge" your clients to give you a review on Yelp. For example, you can place the Yelp badge in the footer of your website with a link your Yelp profile. In addition, you can add it to your email digital signature and include a call to action such as "See what Acme Interior Design clients say about us on Yelp."
You can also use a similar strategy for reviews on Google. With Google, you can Google your business, and then click on your company name in the search results. You'll see a long URL in the web address bar. You can then copy that URL and use it as an image link or a text link on your website and email signature. A sample call to action for the text link might be: "See our reviews on Google," or "Find us on Google."
The key is making it as easy as possible for your clients to put in the good word for you. And if your clients are happy with your work, they'll go out of their way to support your business with a positive review.
Online discussions, forums, and comments let you show off your expertise.
In addition to positive reviews, being an active participant on online discussions, forums, and social media comments will also help you to build your reputation. You can often also include the link to your home page or even your About Us page to underscore your credibility as well as get link back to your site, which helps with SEO.
12. Establish a presence on Houzz.
Houzz has become the Big Gorilla in the home décor space, with over 30 million visitors per month coming their site to "get inspired, shop for products, and find pros." Boasting over 16 million interior design photos, Houzz is a mecca for the types of people who may be in need of your services. In addition, the site is optimized for local search, which means your Houzz profile could show up in search engine results for people looking for interior design pros in your area.
Once you set up a pro account on Houzz, you can reach out to past clients and ask them to follow you and provide a review. Houzz also gives you the opportunity to showcase your portfolio projects your create in your profile.
As with Yelp and Google My Business, you can include a link to your Houzz profile in the footer of your website. Plus, you can add it to your email messages to show off your Houzz reviews, generate leads, and build credibility.
Your Houzz profile is yet another extension of your brand and an opportunity to present a consistent brand image. This is area where a full service marketing agency like MS Tech can help. Once your website is built, MS Tech can easily parlay the content and images from your site to your Houzz profile.
This will free up your time so you can be active in the many polls, discussions, and other community activities that take place on Houzz.
13. Submit a story on Apartment Therapy.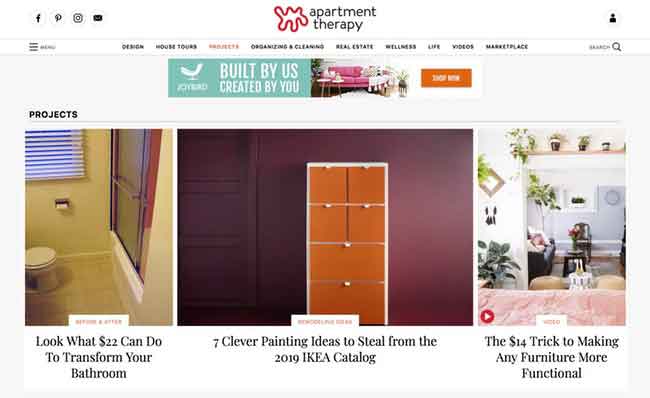 While not as big as Houzz, Apartment Therapy is another online leader in the home décor space. The site draws a massive audience of interior design fans – around 10 million every month.
Apartment Therapy gives interior designers the opportunity to share their professional projects and stories on their popular site. This is another golden opportunity to get your work in front of a lot of potential clients.
14. Get a Facebook page and share content regularly.
According to the NY Times, the average user spends nearly one hour on Facebook every single day. And we all know – there are a lot of people on Facebook! Quite simply, if you are in business today, you should have a presence on Facebook.
Once you have your website set up, you can re-use some of that content on Facebook. It's easy to parlay your "About Us" story, portfolio images, and contact information to your Facebook page. This is another service that a full-service marketing agency like MS Tech can help you with.
Once your Facebook page is set up, posting regularly is the name of the game. What you post and how often you post should fit into your overall content strategy and be geared to help you reach your marketing objectives.
15. Set up your Instagram profile.
With 800 million monthly users, Instagram offers interior designers a unique opportunity to connect with a huge, visually-oriented audience.
Instagram allows you to use a maximum of 30 hashtags per post. This gives you multiple opportunities to connect with your target audience. In fact, when we work with our clients, we come up with 30 hashtags per post so we maximize every opportunity we can with each image. One tip with hashtags to keep your posts looking clean is to place the hashtags in the first comment field associated with the post. This way, you get the search power of a lot of hashtags while keeping your post descriptions free of clutter.
As with Facebook, success on Instagram requires regular, active posting and participation. Marketing services like MS Tech can not only help with your overall social media strategy, they can also keep your business top of mind with consistent, high-quality posts.
16. Show off your work (and yourself) on YouTube.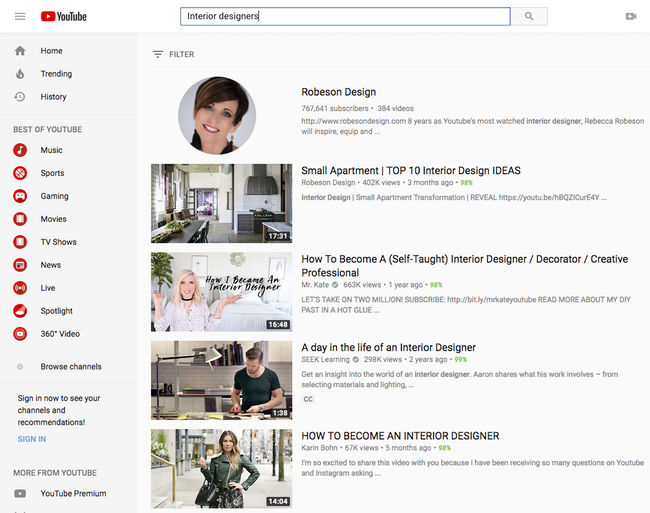 YouTube is the second biggest search engine after Google, and who owns YouTube? Google. Therefore, optimizing your interior design business for YouTube can be as important as it is on Google. Not only will your YouTube videos show up in YouTube searches, they can also show up in Google searches.
Even if you don't yet have a collection of videos of you or your work, a service like MS Tech can take your portfolio images and turn them into visually rich motion graphic videos that represent your work in a whole new way.
As with your other social profiles, your YouTube channel is another extension of your brand. With call to action messages and links and contact information, YouTube is another opportunity to attract new clients to your business.
17. Post to Pinterest.
With over 90 million visitors per month, Pinterest offers a number of opportunities for interior designers. It can be a powerful traffic generator. Plus, it can connect your with a large, visually-focused audience.
Pinterest optimizes its categories for search. So, it's important to keep Google in mind when you're naming your pins and boards. In addition, you can tailor your pins to attract a local audience to your profile with localized keywords in titles and descriptions.
18. Pay attention to what's buzzing on Twitter.
While Twitter has become the de facto platform for breaking news, it can also be an extremely valuable market research tool. With the right use of hashtags, you can easily find the influencers in your niche and learn about topics that are especially popular with your audience.
In addition, gaining followers is easy on Twitter, as many people will follow you back if you follow them. Seek out the influencers in your space, as well as your competitors, and follow their followers. You'll quickly gain an audience of fans, and a great source of interior design intel and ideas.
19. Consider a paid placement advertising strategy.
At MS Tech, we work with our interior design clients to optimize all of their free (or organic) marketing opportunities first. And then we might recommend advertising investments. We want to make sure you get the very best ROI from your marketing. This means optimizing what is free first. Then, we can carefully consider investing in paid advertisements, retargeting, and PPC (or pay per click.)
Valuable information can be gained from what's effective with your organic strategies, which can be parlayed into effective advertising campaigns that cost-effectively help you meet your client acquisition goals.
20. Connect with people in real life. (Get out and network!)
Digital marketing is efficient and measurable. But nothing beats meeting potential clients in the real world. It can make the difference between a business that's "meh" or one that's a rockstar in interior design. At the end of the day, yours is a service business, which means it's a people business. And we all like doing business with people we like.
Ideas for meeting potential clients in your local market can include:
Your local Chamber of Commerce
Country clubs and sport clubs, such as golf, tennis, or running clubs
Places of worship, such as churches, synagogues, and mosques
Volunteer days, such as local park and trail maintenance activities or beach clean up days
Parties, community fairs, Meetups, and other local events
Showroom opportunities or trade shows that are open to the public
Since "you are the brand," make sure you get your brand out there!
21. Ask for referrals. (And make sure you have great business cards!)
As with getting online reviews, getting referrals is another case of "If you don't ask, you may not get."
If you have clients who work in the service industry, they'll understand the importance of referrals. But for many people, giving referrals is simply not top of mind, so they'll need some polite reminders.
Asking for referrals should be a regular, ongoing part of your marketing strategy. There are a number of polite, yet strategic places to ask for referrals. You can do this on your business cards, your invoices, and your social media profiles. Plus, you can remind people on your website. Sample text might be: "Acme Interior Design welcomes client referrals."
People love being in the know. If they know a hot interior designer in their market, they'll be happy to sing your praises.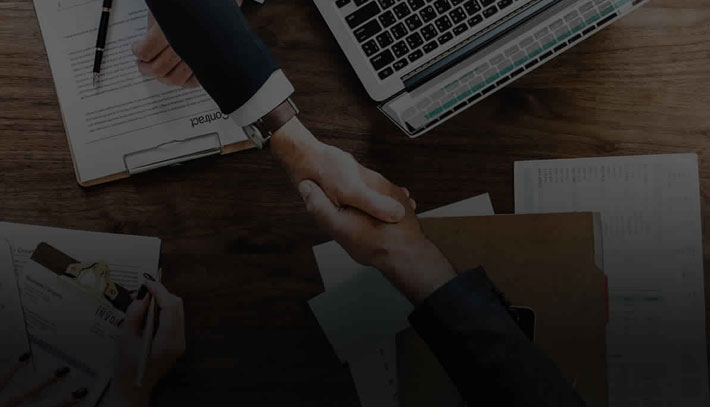 The Top Five Ways a Digital Marketing Agency Partnership Can Transform Your Business
The idea of outsourcing your marketing needs might seem like a strange one. After all, you likely have any number of big ideas regarding how you want your business…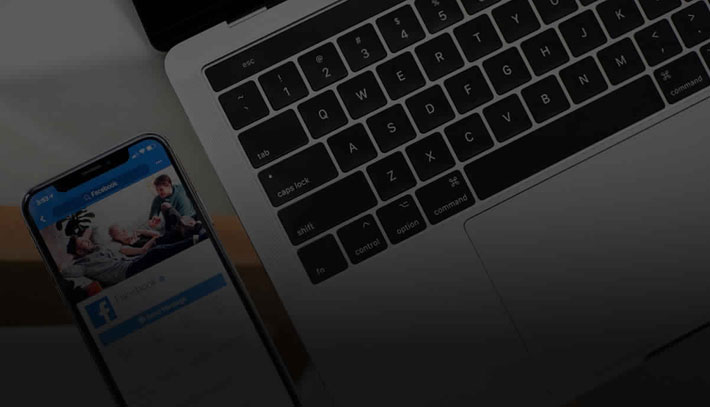 Bring Them In: 10 Tips to Turn Your Facebook Posts into Leads
Facebook is an essential launching point for bringing consumers to your brand, and it is a platform that cannot be overlooked in your social media marketing strategy.
But many digital marketers don't take it seriously enough, or they think that…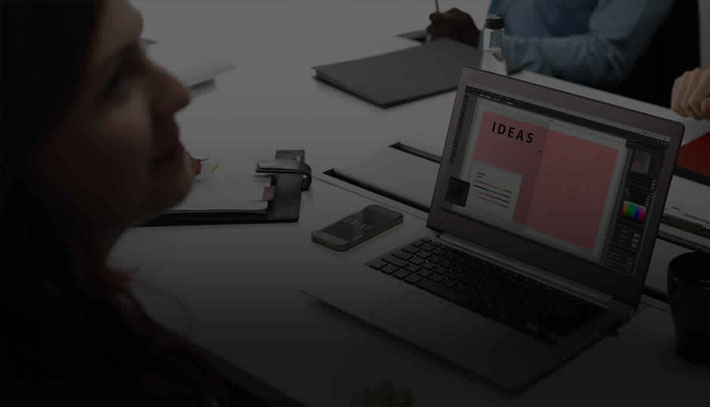 Grow Your Following: Tips for Discovering and Creating Content Your Audience Craves
In a world where everyone's creating as much content as they can, as often as they can, we understand why it can be difficult to see the return on your investment in content marketing.