Interior Design Company Profile: The First Ferry
Prateek Chaudhry: Eclectic Interior Design that Endures the Test of Time
Interior in Conversation 2018



Eclectic Interior Design that Endures the Test of Time
Prateek Chaudhry started his career as a filmmaker at an advertising agency. But a visit to a client's home presented a spontaneous opportunity that would change the course of his life forever. While the term "eclectic interior design" may sound almost too limiting to describe his work, we can think of no better term, because it reminds of the class of ancient philosophers who didn't belong to any specific school of thought, but instead defined their own path to wisdom.
First of all, we must ask: How did you come about the name for your design firm?
The First Ferry was inspired by the idea of exploring uncharted waters. I wanted to create something where anyone I was working with, as well as myself personally, made it a habit of exploring new directions, of constantly disrupting the idea of "normal."
By its very definition, creativity must always benew, fresh, one-of-a-kind, and unique. It cannot, must not, ever be normal. Sadly, we live in a world that is too afraid to express itself. We tow an imaginary line that keeps us safe from criticism and ridicule - but also crushes that which surprises, delights, satisfies us, and which could win us personal satisfaction as well as recognition and fame.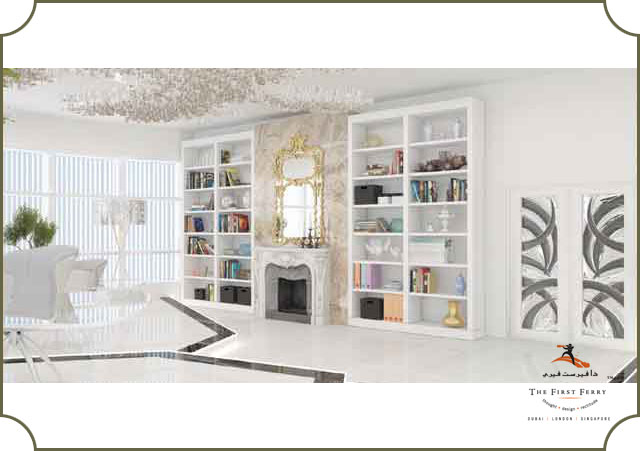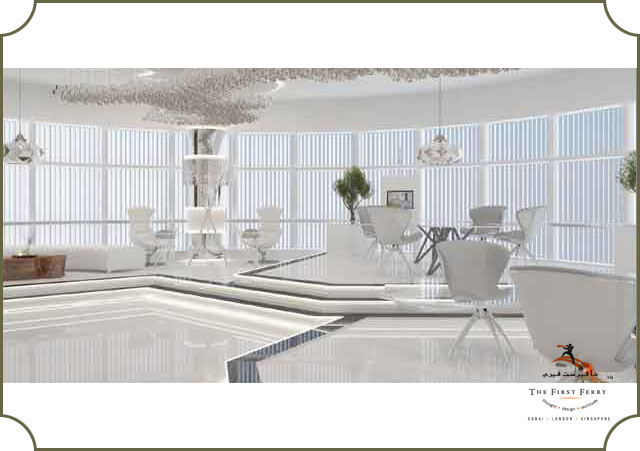 What in your background lent itself to your becoming a professional designer?
My maternal grandfather published a radical, pre-independence newspaper in Bombay, which is now Mumbai. He was an intellectual and thus regularly hosted the leading thinkers, politicians, and artists of his day. So, I grew up in an extremely stimulating environment. And I saw up close how every meaningful creation comes from disruption, from changing your stance to see what was not previously obvious, and from exploring spaces that were untrodden.
And I think growing up in Bombay, which is the Hollywood of India, naturally imparts a love of drama and independent expression. I started my career as a filmmaker at an advertising agency. So, it was a very creative environment. However, it would physically pain me when we invested weeks of intense emotional energy in a high-pressure run up to a campaign, only to then quickly move on to another job.
What drives me is the desire to create lasting beauty, my Taj Mahal, which will elevate The First Ferry to become a globally admired brand and the go-to source for people who want the very best in original design.
When was the moment that you realized your true calling would be in interior design?
The moment was actually decided for me. I had gone to make a presentation to a client. These events were very high energy for me, I would be bouncing around the place, usually breaking a glass or something, as I was giving my presentation. At one point, the client just stopped me mid-way and asked if I would design his house.
I said yes without even thinking. That first project was a home at Burj Khalifa, the tallest tower in the world and one of the most expensive pieces of real estate in the world.
Some people may find it hard to understand that transition, from advertising to interior design. But for me, it was very natural. Just as an advertisement aims to humanize a brand and communicate values associated with a product or company, interior design and architecture aim to do the same for people through the spaces we create.
My intention has always, resolutely been about infusing work with artistry, with bringing something as mundane as a logo alive by using an original approach. It's about preserving all that is original and beautiful in the world.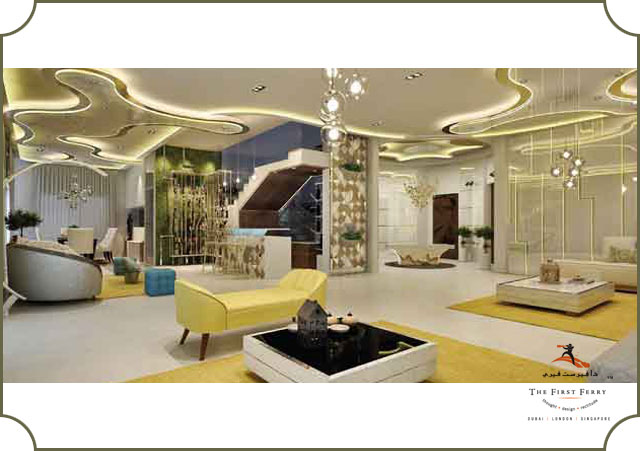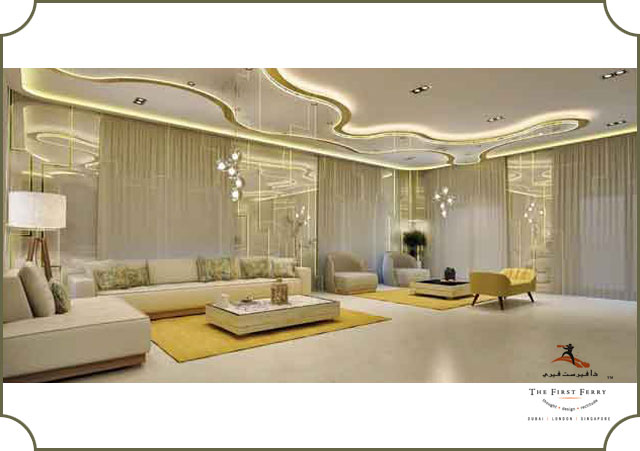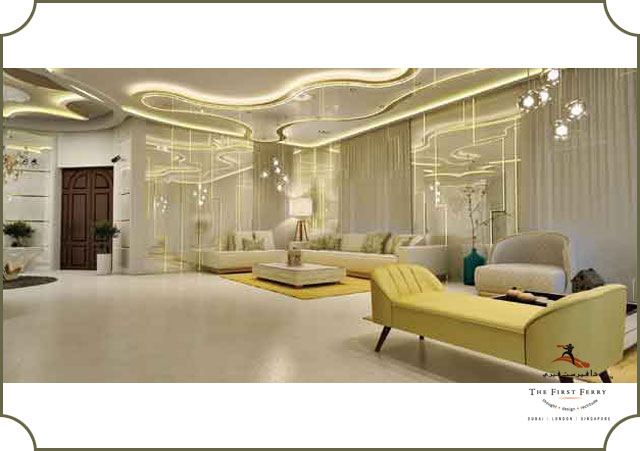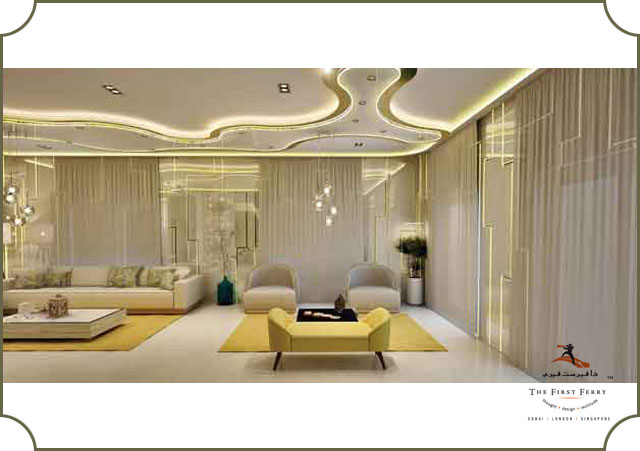 What inspires you work?
The world is my school. Every passionate artist inspires me, fires up my imagination, and teaches me something new. Art draws from the hues of the dawn, the twinkle in someone's eye, the innocence of a look, the magnificence of nature, the fortitude of an ant, the artistry of a spider – there is no end to inspiration. And what inspires our work at The First Ferry is the desire to create a piece of immortality, a work of art that will remain as relevant, fresh, and inspiring as a Beethoven melody after hundreds of years.
Tell us about your first design project.
When I took up my first job at Burj Khalifa, I had little knowledge or experience about how the business part of such a project worked, and I was unprepared for the very different, and decidedly less artistic, mindset of the contractors! Over time, I have learned that exceptional work can only be delivered by those who are passionate and proud enough to enjoy creative challenges, so now we only work with a very select group of people.
From that experience, today when I am interviewing prospective employees, I am drawn by an indefinable but tangible dynamism to the energy he or she has, along with an exceptional attitude. Skills are easily-learned, but without the right attitude and work ethic, the best skill set is worthless.
In every way, that first project was challenging and there was definitely a learning curve. The apartment at Burj Khalifa was very difficult to design and execute because every room had eight to nine corners! That does not lend itself well to fluid design. We had to ingeniously design a cladding that brought in more curves without dramatically affecting the usable space.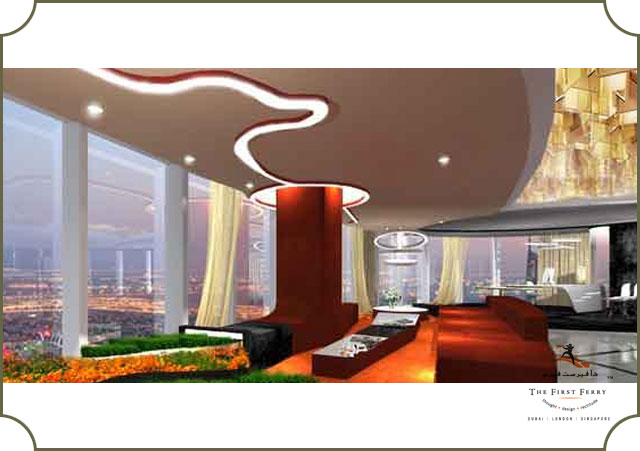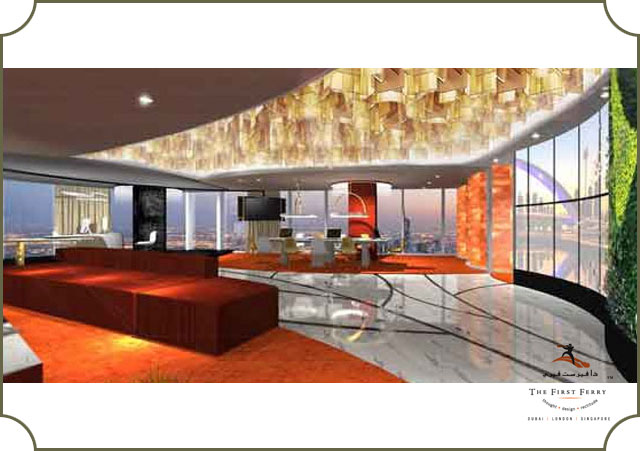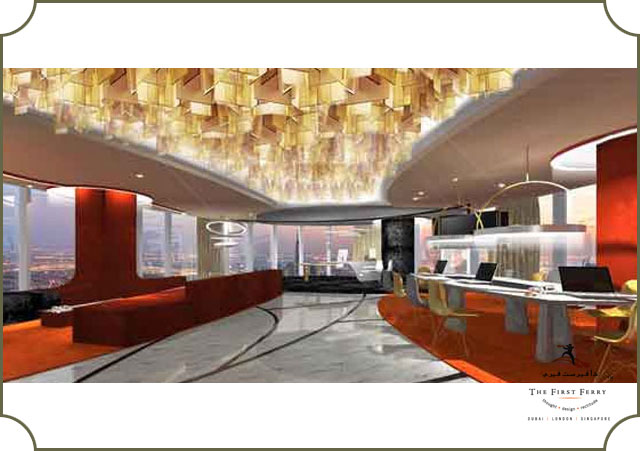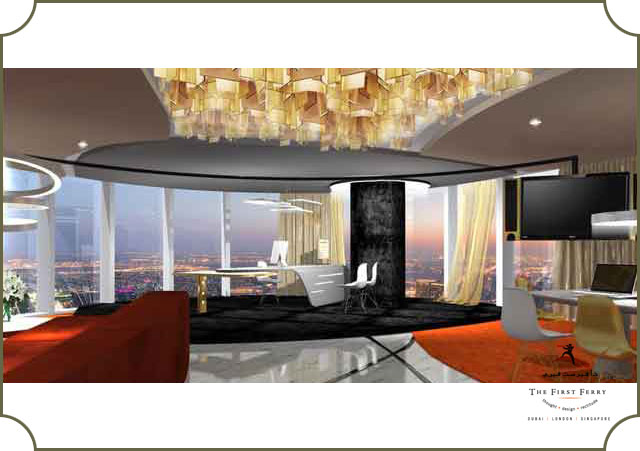 Is there a particular style or genre that you prefer to work with?
The First Ferry doesn't have a set style. I think it's extremely arrogant for a designer to stamp a space with his or her style especially if it doesn't reflect or resonate with the client's. I believe it's our duty to be fluid, to change according to the needs of the job. It is our job to tell the client's story in the most beautiful and meaningful way possible. Your home, office, or business should reflect your journey, exhibit your color palette, and be a space that is your own in every sense.
How do you start a new project with a new client, before you get started on the design work?
Aside from the functional, practical elements that guide the planning for a specific space, we talk with clients a lot before we begin, so that we can truly understand the human being behind the project.
And broadly, there are two kinds of clients: those who are resolutely proud of their past, no matter how deprived or twisted it may have been, and then those who want to deny their roots at all costs.
The proud ones are driven by nostalgia and feel comfortable in a space that has a familiar context, while the others desire a home or office that is aspirational, even when it is a world away from their background and memories.
What do you love the most about your profession?
I believe that architects and designers, more than any other profession, have the opportunity to tangibly affect the world and leave a legacy that will endure for hundreds of years. The seemingly impossible buildings Zaha Hadid designed will remind generations of how much we allow our imagined limitations to shape our lives and how much we can achieve when we rise above the doubting whispers of our own minds.
So, I would say the limitless aspects of creativity and imagination, and their capacity to endure the span of time, are what I love the most about what I do.
What's the hardest part about your job?
Educating a client who has a closed mind, taking the lid off of his imagination, and opening him up to new ways of looking at a space is always the biggest challenge.
Clients will charge us with creating something unique. But then they share the concept with well-meaning friends or family who then convince them to tone it down, play it safe, and do something more "normal."
Often, these kinds of challenges cause creative people to change tracks, to go for more "sellable" concepts and forget their dreams of making a difference in the world. We have had more than our share of people who have asked us to tone down a design, but fortunately, we also have many admirers who love our work and who don't want to impede our creativity in any way.
Today, we attract adventurous clients who are thinkers and visionaries, who share our tangential outlook, and who welcome experimentation. We value working with people we like and connect with on projects that inspire us. It's a rare privilege to be picky, but one that I truly believe we have earned.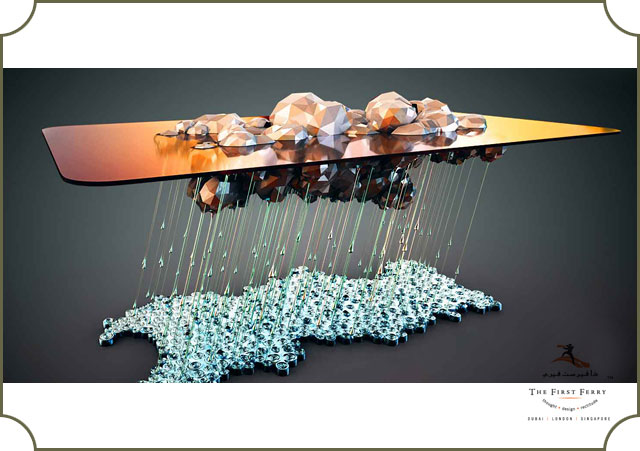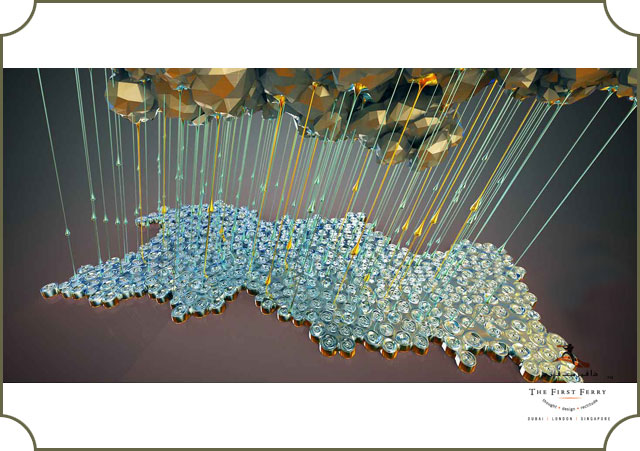 How do you handle clients who have particular ideas about what they want, perhaps coming to you with image and concepts they found online?
That initial conversation with a client is when we do more listening than talking or presenting. We welcome their early input. But then we do things differently. Traditionally, designers will present a "schematic design," where clients are shown reference images to illustrate how a living room or kitchen will look. Then, a designer develops a detailed design and provides photorealistic renders. This leaves a lot of open questions, where clients jump in with their suggestions. Usually, clients are inspired by places they have traveled to, hotels they've stayed in, or monuments they were inspired by.
The First Ferry's approach is a bit different. We create an original visual look and feel for a space. We believe in creating, not rehashing. So, all our designs are original, never copied from other sources. As creators, it is our duty to expand our clients' creative landscape and palette. When we move past all they have seen and known, and open the door to realities they had never considered, they surrender. We may be asked by clients to change a color, but by and large, once we have established our expertise, clients rarely offer their own additional ideas.
What advice would you give to a budding interior designer or architect who is exploring working in this field?
The advice I give to anyone who is considering a career and thinking about their life path is to pursue the kind of work that you love enough that you would do it for free. If you love what you do, you'll set high standards for yourself and you'll give it your absolute best. What will drive you is not just your clients' expectations, but your own need to feel proud of what you do. When money is not the primary driver, excellence brings its own joy. This will help you build a name for yourself, which will eventually allow you to charge the fees you truly deserve.
And if you want to be an architect or designer, keep in mind that we can be a pompous lot! So, I would tell any young designer to remain open-minded. Inspiration and learning are everywhere around us. If we keep the eager enthusiasm and the wonder of our unlearned days, we can refresh our viewpoints, be open to new ideas, and continue growing. The day we make the mistake of thinking we know it all, is the day we start stagnating, regressing, and dying.
How have you approached branding for The First Ferry?
Branding is absolutely central, critical, and pivotal. All that we do, the manner in which we look at things and interpret them, how we choose to design and what we highlight - it is all driven by The First Ferry's brand values.
Just as a person is defined by core values that are unflinching and unchanging, no matter what life throws at them – all our work at The First Ferry is driven by the pursuit of original creativity, artistry (or a creative way of looking at the most mundane objects), luxury, and an unflinching sincerity and commitment to all that we do.
Like lawyers and doctors, most architects and designers think of their work as a "practice." It is client-centric, and therefore limited in scalability. Most do not think beyond their practice to establish a real brand.
The First Ferry is first and foremost a brand. Our is a name that will sustain itself long after its creators have passed on. My vision has always been been very clear on this aspect. The First Ferry had registered offices in the US, UK, India, Singapore, China, and Mauritius within the first year of the company's inception.
How do you attract new clients?
Thus far, our marketing has been focused on creating a sustained presence on social media, including LinkedIn and Facebook, where we showcase our work. And recently, we teamed up with LuxuryProperty.com, a realtor who lists and sells only luxury properties across the globe.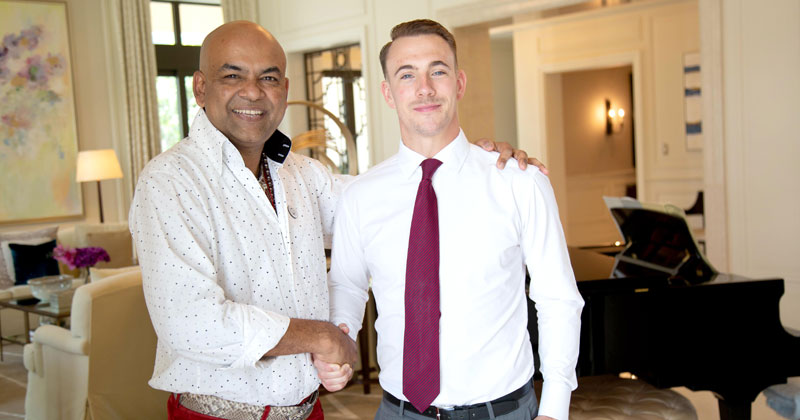 Prateek Chaudhry with Liam Jeffrey from LuxuryProperty.com
This alliance makes sense on every front because both of our companies are servicing the UHNI (ultra-high net worth individuals) globally. We are both very focused on fulfilling clients' needs rather than achieving a short-term sale. Because of this partnership, we are more focused than ever on designing a specific type of projects, by size, scope, and quality. Now, we have a team who travels to international locations for fit-out work, so our clients get the VIP-level service they're accustomed to.
But overall, we no longer have to do a lot of networking. When the sun rises, the world witnesses its light and feels its warmth. If a flower is fragrant, people are drawn to it automatically. We just focus on putting our heart and soul into our work – and let that do the talking.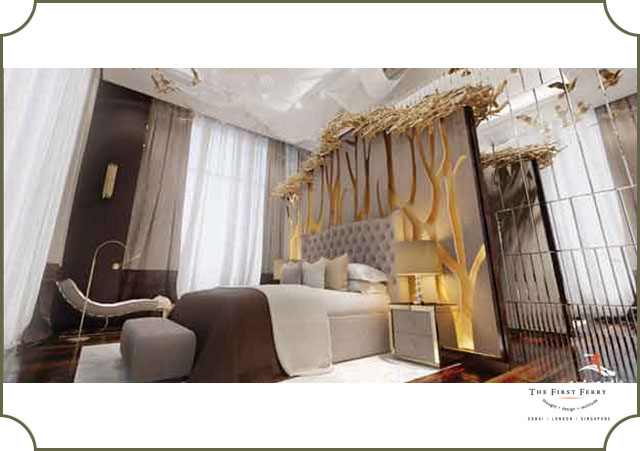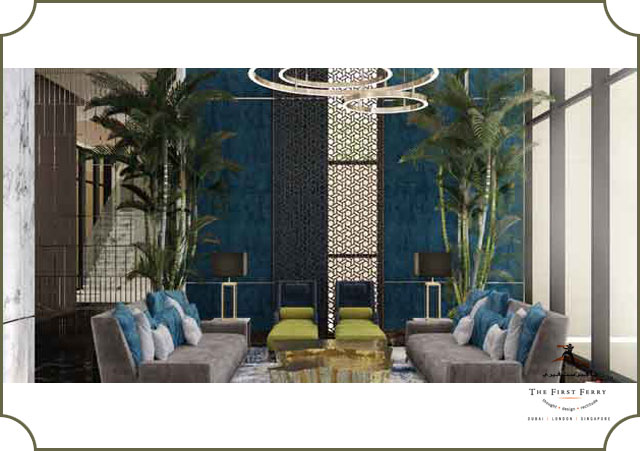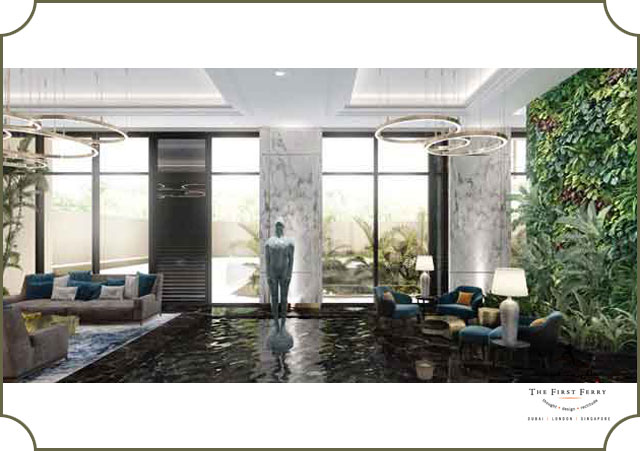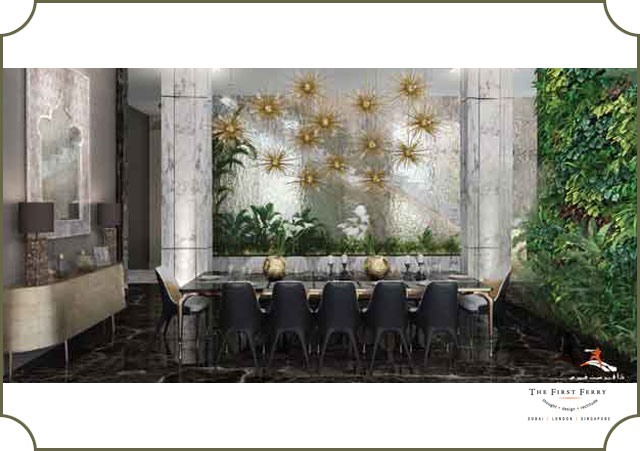 With such a focus on your work and serving your clients, how do you manage your social media presence?
To date, I manage my own LinkedIn and Facebook accounts. Over the last few months, LinkedIn has gained in importance because we are finding huge traction globally. For example, recently we read that India is in the process of developing airports in smaller cities. We used LinkedIn to search for and send messages to industry players, and within a couple of weeks we were invited by two companies to design unique spaces for them.
Our social media efforts take a few hours out of my day, but I believe it's important that I do this personally because the language I use to express our values is vital and it's what the world responds to. Even when they're online, clients and potential clients can sense the heart and passion behind every project, and this our key driver and differentiator. This energy needs to be reflected as powerfully in social media as it is in every other way we communicate with our clients.
To me, social media is the best way to reach out selectively and interact with people who will most likely be interested in our work and have greatest potential to benefit from it.
What role does technology play in what you do?
Our work is about creativity and working with people, so our business is not technology based. Things like online chat systems and lead capturing are more for those who deal in more common products that offer little by way of a unique value proposition or service. I think those kinds of technical advancements lend themselves better for selling things like insurance. Sure, we live in a technology-driven world, but what sets us apart is our humanity and our creativity.
The First Ferry is first and foremost about artistry. If you have ever fallen in love with the design and fabric of an Armani suit, you know that nothing else can possibly take its place, no lead generator can lure you away from your cherished suit.
Similarly, what we bring to the table is a unique perspective on your space, an artistic interpretation like no other, and a level of value that you never dreamed of. A week ago, we were approached by a developer making luxury holiday homes in a popular destination in India. He had the basic project planned, the architecture and design completed, and he only wanted our help to increase awareness globally.
With the treatment this project received from The First Ferry, it has been enhanced to a level of luxury never seen in India (or anywhere, for that matter), and these units are now being sold at a value that is double the original intended price. We had four potential buyers for the villas within 24 hours of listing them.
Not many architects or designers see themselves as pivotal to clients' businesses. We get excited about our clients' potential gains. We operate from a point of view that is so unique, so distinct, that we are certain those who are meant to do business with us will find us. It may sound trite or arrogant, but our experience shows that when the good intention is poured into creating beautiful work, the world senses the difference without us having to say it.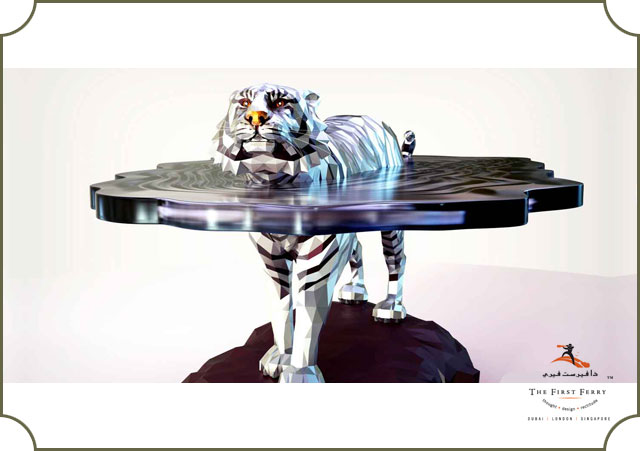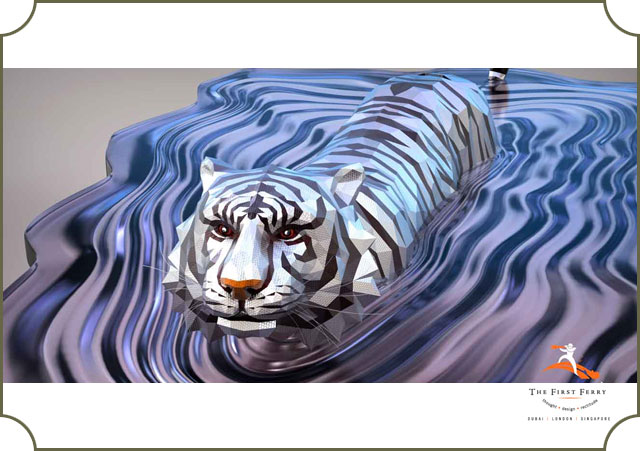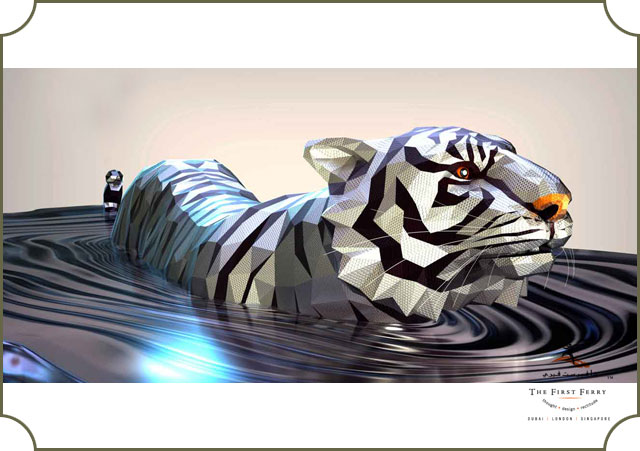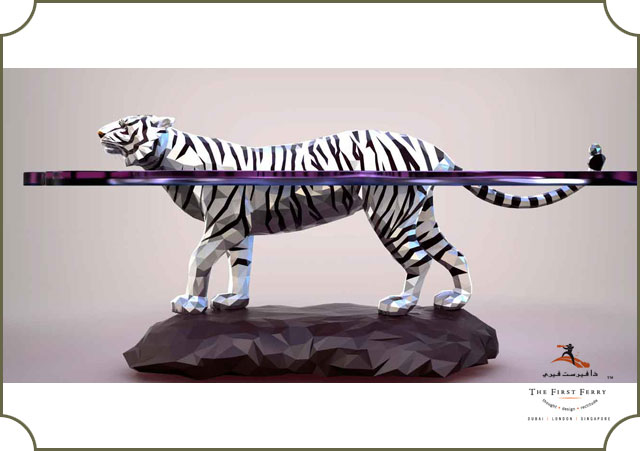 Tell us about your dream project.
Well, we have many. But one dream project for The First Ferry would be focused on sustainable architecture and preserving the Earth's resources and environment. And in parallel to that, we always want to preserve art and artistry.
We have turned dreams into reality with the formation of The First Ferry Foundation. All over the world, in our do-it-fast, mass production culture, ancient art forms are being lost. Artists don't get paid enough, so children are encouraged by their parents to embrace modern education and mundane city jobs. Through The First Ferry Foundation, we strive to ensure that every project of ours will carry bespoke signature pieces made by indigenous people's from all over the world, specifically to preserve traditional art forms.
Progress need not only be about increasing speed of delivery and reducing costs, or using a trending style or material. It should also be about increasing one's circle of influence, adding intangible value to your work, empowering those who are weak, and taking a soft step back in time to protect and bring forward all that is fragile and priceless.
Any final thoughts or words of wisdom you'd like to share?
You will never realize your full potential as a human being by settling for less and just taking the safe and well-trodden path. Live your life courageously, pursue your dreams and passions with wild abandon, and never ever give up.
About MS Technologies
MS Technologies is a global team of innovative marketers and technologists whose mission is to help entrepreneurs and businesses turn their dreams into successful business ventures. MS Tech do this by providing comprehensive design, digital marketing, branding, and technology solutions.