Interior Design Company Profile: A Colorful World
Melonie Madzel:
An Artist Turns Her Passion for Color into a Successful Interior Design Career
Interior in Conversation 2018



The Path to Inspired Interior Design Ideas
Melonie Madzel's interior design career path was not the straight and narrow kind. A highly creative person who painted and had a passion for textures, she never considered herself an artist because she didn't like to draw. And a weak economy in '08 and '09 made her pursue more "practical" vocations in hospitality and management. But a move from Pennsylvania to Florida served as a catalyst to help her realize her true calling.
What was the moment when you decided that you would become a full-time interior designer?
I was never exactly sure how to bring my creativity and love of color into play in my professional life. I get very inspired when I see other people's artistic work, and that makes me want to create even more. I was was always helping my friends with their interiors, giving them design advice and so forth. So, they were the ones who inspired me – I needed them to tell me, "You're good at what you do." So, I think it was the combination of my friends' encouragement, moving to Florida, doing a lot of painting, and the economy getting better that I decided to pursue interior design full-time. That was my turning point.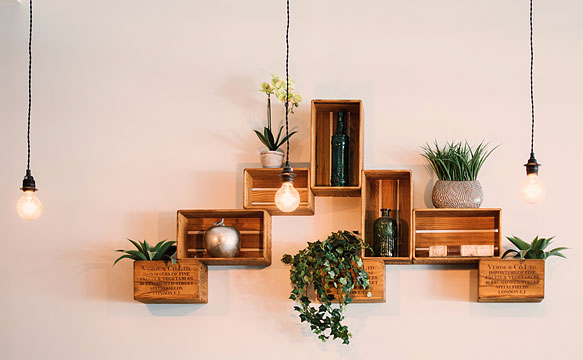 Contemporary design illuminated, designed by A Colorful World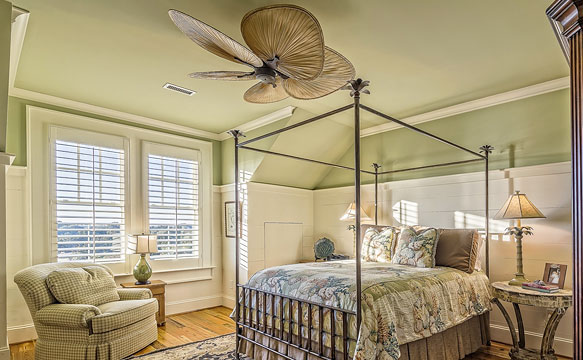 Architectural bedroom casablanca, designed by A Colorful World
What was your first project as a professional designer?
My first interior design project turned out to be pretty big. It was an entire condominium, a complete makeover, everything from the ground up – but it didn't start that way.
First, it was just going to be advice on flooring. These clients were a couple in Rochester, New York, which is over 1,300 miles, or 2,000 kms, from where I was! But we still managed to do it.
After the recommendations on flooring, they ask me to help convert a bedroom into a den. And then, we redid kitchen backsplash and lighting, which led to re-doing the whole kitchen! What started as a small project, turned into six months of my life because they kept coming back for more. The best part about this was that it turned out amazing and my clients were beyond thrilled. I mean, this is why I love what I do. And my business never really stopped after that. This first project with these wonderful clients started the ball rolling.
How did you develop your signature style?
Well, that first project was one of my favorites and I learned to understand what was important to my clients and what would make them happy, which is essential. Since then, I've done many other projects, and recently a beach house, which was super fun. I was able to do both the interior and exterior, so it as incredibly rewarding.
So, the combination of past experience, and making clients happy, and also living in Florida has helped me develop as a designer, which led to my signature style. I love having a lot of different flavors to choose from, and being able to show potential clients not just one style, but different levels within a particular style. But I would say that coastal designs are among my favorites, and coastal farmhouse is definitely one of my signatures.
You put a special emphasis on color and texture. Which ones do you love the most?
I really love working with sesame green, navy blue, and light blues. And then gray, ivory, and coral. I play around with color shades and combinations a lot. This is why I named my company A Colorful World, because color is so important to me.
And then for textures, I love embroidered fabrics and I love tweed. Essentially, I like fabrics that have levels to them. And anything that is geometric is super cool because it can be paired with florals and other patterns.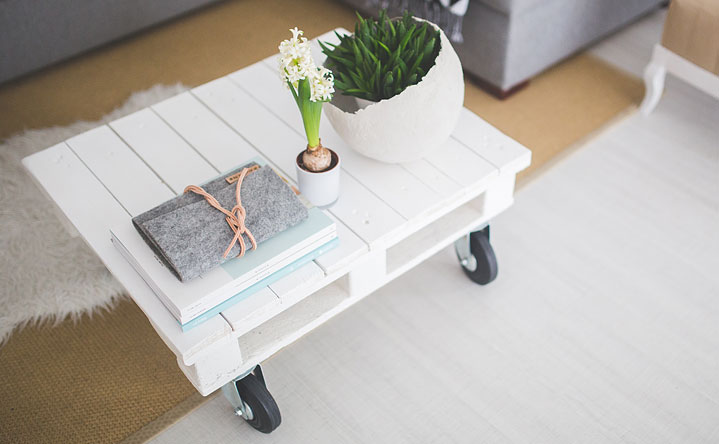 Clean decoration home, designed by A Colorful World
Designed by A Colorful World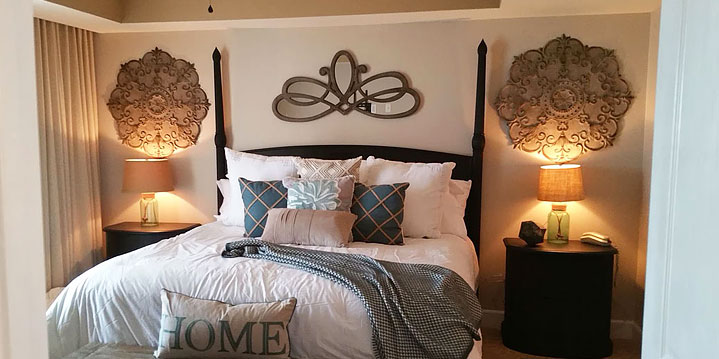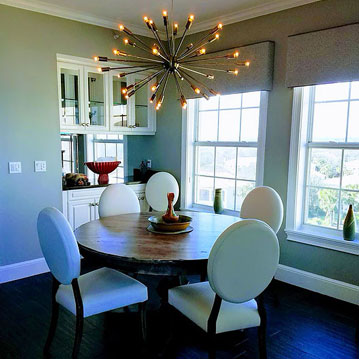 Designed by A Colorful World
How do you begin with potential clients before actually starting the design work?
When I first start working with a client, the number one question I try to answer is: What is their personal style? It's very important to take myself out of it in the beginning. Because I know that once I understand their personal style, I can run with it. It's so important to understand where they are in terms of their preferences and what they want, so I spend a lot of time with my clients in the beginning. I need to get a clear message from them and clear understanding of who they are and what will make them happy.
What do you do when you have a client who is very particular about what they want?
This happens a lot today because people have access to so many ideas online. They may have poured over a million different images on the Internet. So, I sit down with them and look at all of those images and I ask them about why something is their favorite, what they like and don't like, etc. You really need to nail it down because a client may think they're being very clear about their style, which is in their head, but there could be a million things going on.
So, in the beginning, it's more a process of elimination than anything. As a professional designer, you need to ask appropriate questions, let your client know in a polite way that you are the pro, and then get them focused. They may be a little scattered, being exposed to all of these ideas online. So, you want to help them focused and then from there, you'll gain momentum to get the project done.
What advice would you give to a new interior designer about working with their first clients?
Be really flexible! This doesn't mean change your design standards, but be flexible in how you respond to people, and never take anything personally. Taking things personally will set you back in this industry, and that will make you frustrated.
You want to be confident, but not overly confident. You may think you have everything figured out, but always, always run it by your client. What I've learned in the interior design business is that if a client hates an idea, that's ok. Because I have many more where that came from. I always want to figure out - what can I do to make them love it?
As an artist, this is hard to do, but it's important to be able to remove yourself emotionally from the work. If you can accomplish that, you'll really get ahead in this business. Your clients will be happy and you'll be more successful.
Home design in Palm Coast, designed by A Colorful World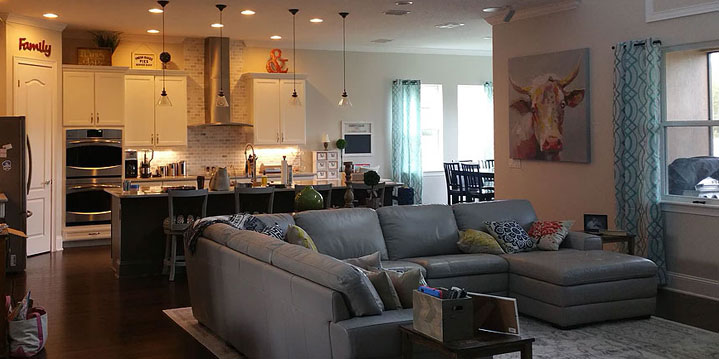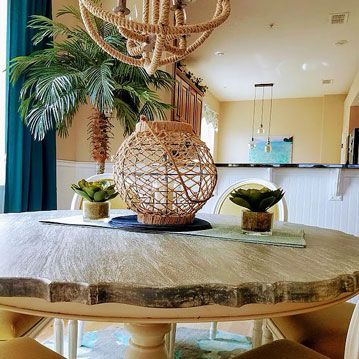 Home design in Palm Coast, designed by A Colorful World
Designed by A Colorful World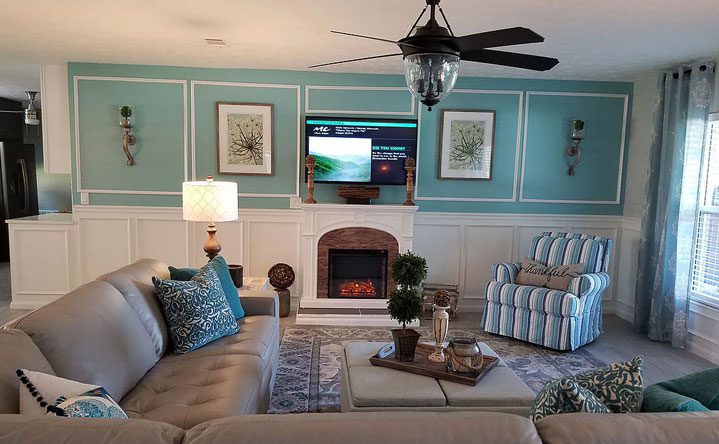 Once you get clear on your client's style, what is the next step at the beginning of an interior design project?
Organize yourself. Put an action plan together before you actually start the work. Make sure everything is aligned with your client.
Being organized and having a plan is so important. This is important for running your business in general. You need to think about how you'll handle the finances, how you'll handle purchasing things, how you'll send out proposals and invoices.
When you show you are organized, it reflects well on your business. Even when you send a proposal, it reflects on your business. Your proposal shouldn't just be a simple sheet of paper; it's another way to show your design acumen and that your business is run well. As a designer, your business is reflected in everything you present to a client.
What is the hardest thing about your profession?
Well, after I just said all that, I must say it's the financial side! I'm an artist first, and I don't necessarily like dealing with the financial side. I also hate being in front of computer for too long. The artistic aspects and working with clients are what I enjoy the most.
How important is branding when it comes to an interior design business?
It's an interesting question because so much of your brand as a designer is you and your work. But I believe that if your branded logo pops up every time your name, your photo, or images of your work are displayed, it is absolutely great for your business. It just adds a level or polish that I think will inspire clients to want to work with you.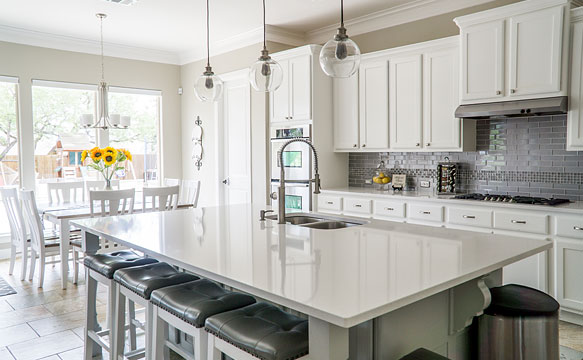 Cabinet contemporary counter, designed by A Colorful World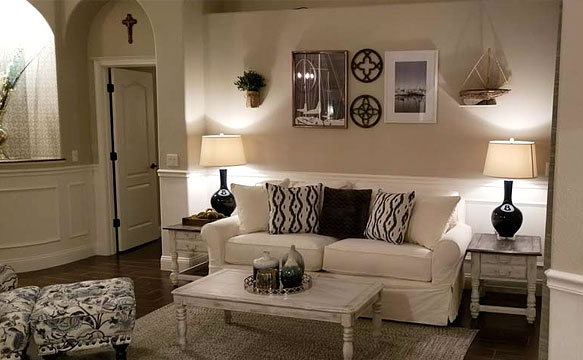 Designed by A Colorful World
How do you get new clients?
I definitely believe in networking. If I'm at a social gathering, I'll give out my card. And I'll also bring it to real estate agents' offices, as well give it to builders and contractors. You want to make yourself known in your community. I also think networking groups like the local Chamber of Commerce are important.
In addition, I market myself online. I use Houzz for different geographic locations, and I'll also use Instagram and Facebook. I've worked to get my website to number one in local Google search results and we're working to get it ranked in several more locations.
Marketing on the Internet and in social media is simple in some ways, but a lot of work in others. But I think it's very important to have a strong presence online. So, when someone is looking for an interior designer online for your area, you are going to pop up, whether on Google or social media.
How do you use social media and a strong online presence to advance your business?
People spend so much time on social media these days that you just have to be there, or they may not know you exist. But to have that presence can be time consuming. You need to be on it everyday to respond to people. It's a great way to engage with people, share ideas, get feedback. But it can be frustrating for me because I don't always have the time to manage it. But I'll say that if you don't have the time to do it, get someone to do it for you. Then, you can still take advantage of it. I think social media should just be considered as a way to expand upon your referral base.
But in addition to social media and posting as much as possible, I spend a lot of time updating my website. My website is my showcase, it's where I can really show off my work.
How do you stay up to date on the newest technologies that are relevant to interior design?
It's a process of continually educating myself. I think it's important to be streamlined and efficient, and technology can help you do that. Then, you can spend more time working with your clients.
As a business owner, you may think you need to a jack of all trades. And in many ways, you have to be. But we all have strengths and weaknesses, and I'm a designer first. I want to work with my clients and deliver great work to them first. Everything else, when possible, I want to outsource it.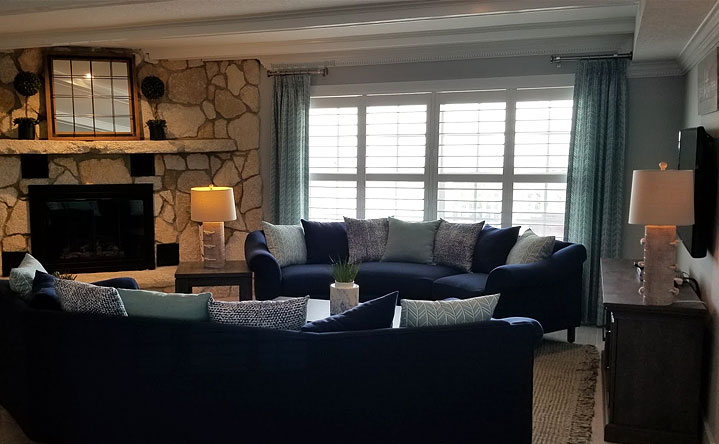 Beach House, designed by A Colorful World
Beach House, designed by A Colorful World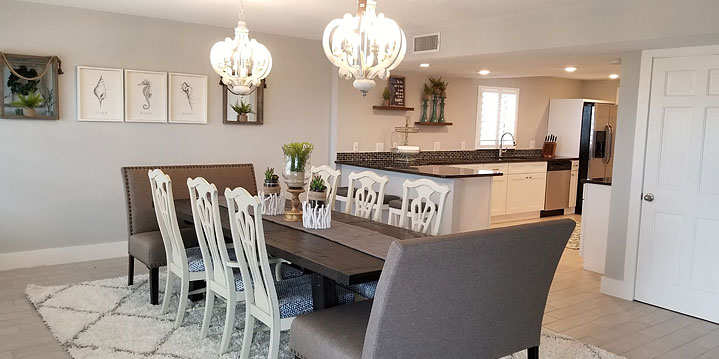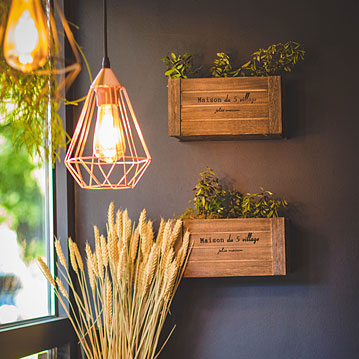 Bright decoration, designed by A Colorful World
What is the best thing about your profession?
It's working with clients and being creative. In interior design, you're able to be expressive and to work with people to create spaces where they're going to live and work and enjoy life. I love doing this, and I'm passionate about it. This is so important because you want to stay engaged and to always keep learning and growing.
Do you have any more advice for new interior designers, architects, and builders?
My advice would be that if you love it - fantastic. But be sure to consider the business aspects it it, and don't assume it's all glamor and fun all the time, because it isn't. It requires focus and a lot of hard work. You also need to be able to keep an open mind and really listen to what your clients are saying – and not saying. This is an art form, but it's an art form that you are helping people experience through a combination of their own imaginations and your own.
Any final thoughts or words of wisdom you'd like to share?
As a designer, you need to make space to be free in your thoughts and to not limit yourself by what the world tells you should or should not do. I think what makes a great designer is someone who serves their clients well, but also manages to stay unlimited in their thinking. You need to be open to crazy ideas, because sometimes that crazy idea may be the best thing your industry has seen in a long time.
Sally and Glenn, designed by A Colorful World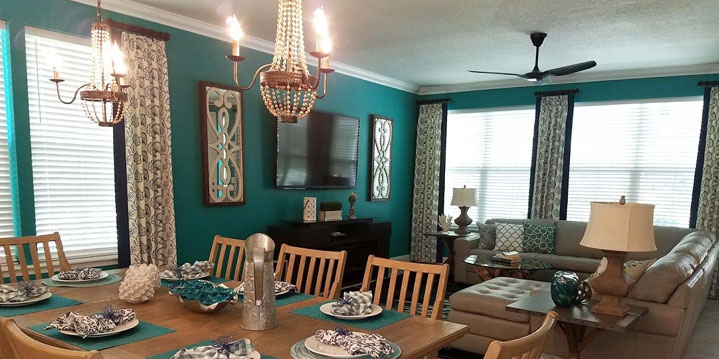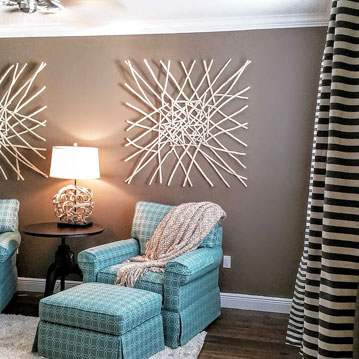 Sitting room design in Palm Coast, designed by A Colorful World
Bedroom ceiling, designed by A Colorful World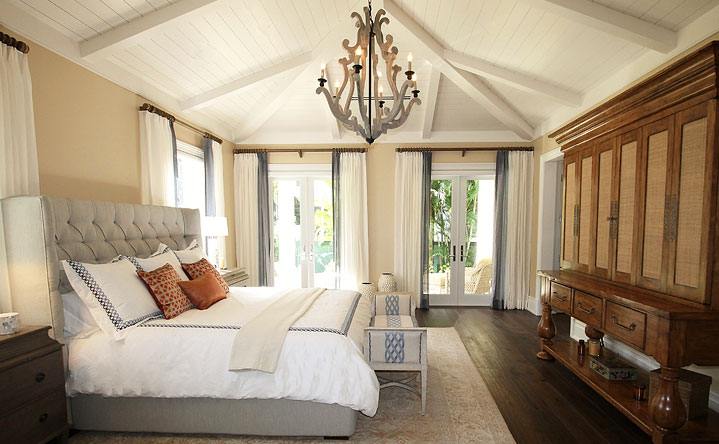 About MS Technologies
MS Technologies is a global team of innovative marketers and technologists whose mission is to help entrepreneurs and businesses turn their dreams into successful business ventures. MS Tech do this by providing comprehensive design, digital marketing, branding, and technology solutions.